About Us
---
Now open in Milton, Delaware, Bodacious Bicycles is a full service bicycle shop that's been in operation for over 10 years, first in Maryland, and then in North Carolina. It is a family owned and operated business that repairs, tunes, modifies, restores, assembles, specifies, and sells stock and custom bicycles. Bodacious Bicycles also offers a variety of bicycle "fitting" services. Bottom line, if you need anything from getting a flat tire patched to getting your dream bespoke bike, Bodacious Bicycles would love to help you.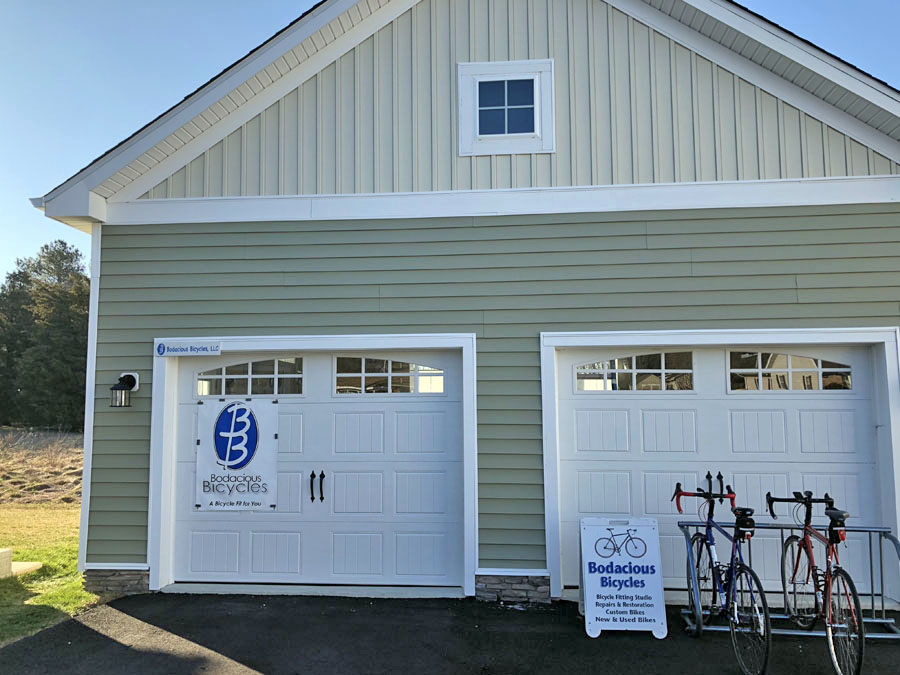 Plain on the Outside
Packed on the inside
Our simple exterior belies the "Bodaciousness" of the Bicycle Shop and Fitting Studio inside.
A Full Fitting Studio
Everything from scales to simulators
Bodacious Bicycles has the know-how, tools & accessories to make your cycling more rewarding.
A Full Repair Shop
We love working on bikes.
Sophisticated tooling for working on everything from old classics to the latest technology.
So who are we?
The short answer is life-long bicycling enthusiasts! And given that we're now both in our mid-sixties, that means we've done a lot of bicycling.
Gary - after crossing the Golden Gate Bridge
Gary has logged more than 250,000 miles while cycling in all 50 states, most of the Canadian Provinces and Mexico, as well as most of the countries in Western Europe. Most of this mileage has been on-road, but there's also been plenty of tow-path, forest-service roads, single track, gravel, rocks, and velodrome cycling. And the stable of bicycles he has used in this cycling include racing, club-ride, sport-touring, commuting, touring, tri/time trial, and fixie road bikes, rigid, hard-tail, and fully-suspended mountain bikes as well as gravel, enduro, tandem and folding cycles that don't fit nicely into any of these categories.
Why should his experience matter to you?
Well Gary will be the one specifying your bike as well as assembling or working on it so it's nice to know he's familiar with most types of bicycles and bicycling. He's a talented and experienced mechanic, which is not surprising given that he is also an engineer with a Bachelor's and a Master's degree in Mechanical Engineering and a Ph.D. in Engineering Materials. And he's taught relevant engineering courses at the University of Maryland. So it should not surprise you to learn that while he's cycling he's also constantly evaluating the subtleties different geometries and materials have on stability, energy transfer, power output, aerodynamics, performance, and comfort. Contemplating the interaction of all these factors, in turn, spurred an interest in how all these engineering subtleties effect power generation as well as how they affect your overall health and fitness. So to explore this expanding sphere of interest, Gary went back to school and got certified as a bicycle fitter and a personal fitness trainer. This led to further study on how different training regimes and pedaling techniques affect health, fitness, strength, stamina, weight management, and happiness. And predictably, evaluating these latter characteristics required also considering dietary, sleep and motivational factors. We could now segue into a discussion of neural networks here but suffice it to say that Gary's amassed a significant amount of engineering, kinesiological, health and fitness knowledge while cycling more than a quarter million miles. And he looks forward to applying this knowledge to help you better realize your own cycling expectations, motivations, and goals.
Kathryn - pedaling across France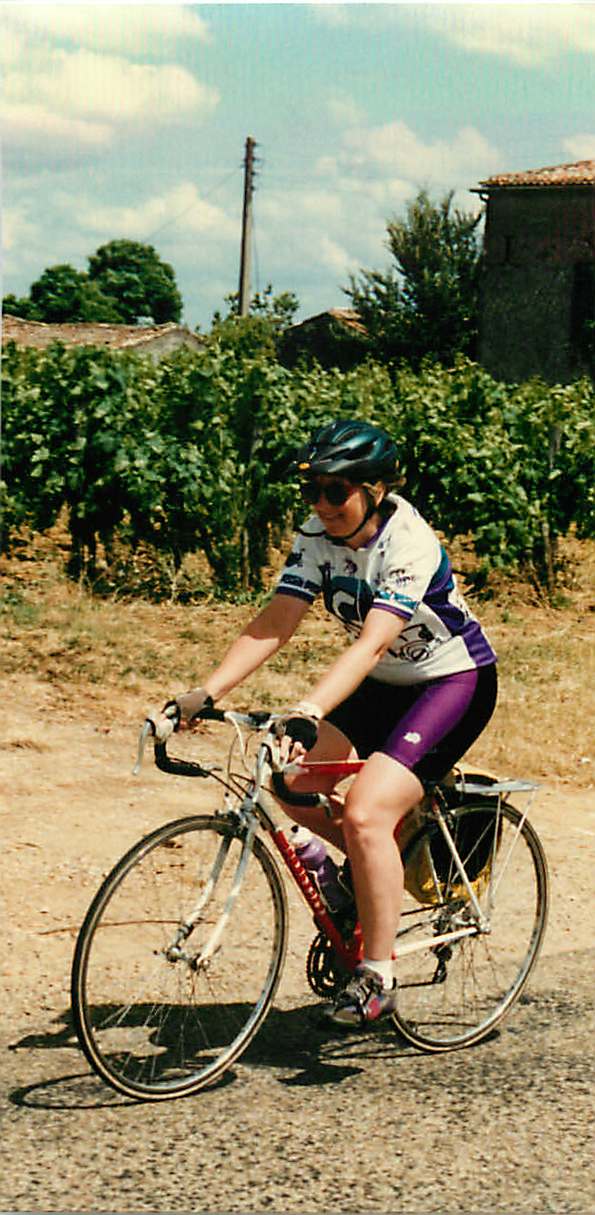 Kathryn brings a different perspective to the business. She just loves bicycling and the opportunities being outdoors with her friends and family on bikes present for enjoying the world. Sightseeing and exploring, especially in exotic or unfamiliar locations, is what she likes most. She has ridden in a number of European countries and China as well as accompanied Gary on the latter half of his cross country, self-contained bicycle tour. However, because he needed to cover 100 miles per day on a fully loaded touring bicycle (weighing over 60 pounds) to complete the trip in the time he could get off from work, Kathryn decided she could have just as much fun riding a moped so that's exactly what she did. Both of them got what they wanted most out of the trip and they had a whale of a good time along the way.
Then 6 years ago Kathryn tripped while walking in the house with her iPad and twisted her neck violently. This dissected her carotid artery and triggered a massive stroke. Her doctors didn't expect her to survive. But survive she did. Not only that, Kathryn then learned to crawl, then walk, and now with the help of a specially modified bicycle, she is again able to cycle.
Why should her experience matter to you?
Kathryn's 1,700-mile moped-trek in 1981 proved to be a precursor to power assisted cycling. It didn't matter that she didn't pedal that distance. She saw all the sites, made friends everywhere along the ride and had fun. Today e-assist and e-bikes are not much heavier than bicycles and are much easier to pedal. So as long as you're not racing, what's the harm in getting a bit of help if and when you need it? Kathryn welcomes the opportunity to share her experiences in power assisted cycling.
Finally, there's great joy in turning disabilities back into abilities. And that is exactly what Kathryn and everyone around her felt once she was again able to ride a bicycle after her stroke. Whereas the lion's share of the credit for this accomplishment should go to Dr. Jennifer Smart, DPT, Bodacious Bicycles was able to modify a bicycle to facilitate safer starting and stopping. Bodacious Bicycles also helped Dr. Jennifer Smart, with her tandem cycling program for Parkinson's patients. Having the patients ride as stokers with a forced cadence in excess of 80 rpm significantly suppressed the symptoms of many of the participants and improved their quality of life. In short, Kathryn's perspective and involvement evokes what Bodacious Bicycles is all about: helping people feel good about themselves.
Bodacious Bicycle Fitting Services
---
At Bodacious Bicycles, our goal is to make bicycling more personally rewarding, no matter the level of exertion, distance or type of riding. And we pride ourselves in being able to help all bicyclists: from those that are new to, or returning after a long break from, bicycling, to those who are more experienced and committed to increasing their degree of fitness and performance, to even champions at the highest levels of racing. We call our processes and methodologies for making this happen: Bicycle Fitting Services.
Although serving such a diverse spectrum of motivations, expectations, and athleticisms requires an equally wide range of bicycle fitting services, they all share one common objective: to define a healthy and efficient Bicycle User Interface that "fits" you, your style of riding, and the type of riding you are doing or intend to do.
The specification of a particular Bicycle User Interface, or BUI, for you is defined by three groups of information. The first describes the style and type of riding for which the BUI applies, for example on road, club rides. The second defines the relative positions of the bicycle contact points, i.e. the saddle, handlebars, and pedals. And, the third group characterizes those contact points. This entails specifying how wide the saddle should be, the shape and width of handlebars, and what type of pedals.
Why is it important to know your Bicycle User Interface (BUI) for a particular type of cycling?
It's for the same reason that it's important to know your shoe size, it's so the bike won't cause you undue pain. Would you buy a pair of shoes if you didn't know what you were going to wear them for, where you were going to wear them, or if they were your size? We've all done it, and those are the shoes you never wear in the back of your closet. No, you want your shoes to fit you, your reason for wearing them, and be appropriate for where you wear them. It's the same with bicycles. You want the bike to fit you, rather than you trying to fit yourself onto the bike. Think of your bike as a prosthesis. If you had an artificial leg that was too long or too short, your hips and back would have to accommodate the difference. And as you started to take longer and longer walks on your prosthetic leg, since human hips and backs have not evolved to support the resultant loads and motions, you would undoubtedly be setting yourself up for a repetitive use injury.
Fitting Services for Recreational Bicycling
At a minimum, all riders expect the fitting process to minimize their risk of developing an injury. Bicycling is an excellent way to enjoy the outdoors and to exercise. As a low-impact sport, it is unlikely to cause the types of injuries that are common in running, for example. However the repetitive nature of bicycling can selectively aggravate your knees, shoulders, or other parts of your body. Eventually this could result in joint pain, tingling hands, or chaffing. And by continuing to try to ride "through" this pain, you will only make the situation worse and you could develop a repetitive use injury that requires medical treatment. Of course medical intervention will treat only the symptom. A far better solution would be to have your bike adjusted to fit you properly, as this will treat the cause.
General Sizing
"General Sizing" is our most basic fitting service. It establishes an initial, healthy, developmental position for you and your style of bicycling. It is intended for people new to the sport or the occasional cyclist. We start the process by asking you about the type of cycling you intend to do and the distance you would typically want to travel. We ask whether you experience any discomfort while cycling on your current bike, and if so, to describe it. We also ask about your flexibility as well as any ailments or afflictions that may restrict your range of motion. We then take some static anatomical and physical measurements. Finally, if you have a current bike, we measure it for comparison purposes. All of this information is then run through a statistical algorithm to generate a report containing a suitable set of BUI dimensions for you. The report also documents the bicycle size frame, as well as handlebar and saddle widths that fit people like you best statistically. Customers typically use this information to narrow the field of potential new bikes for them to consider. The cost for this service is $75, and it takes about 90 minutes.
Enthusiast Sizing
This is our most popular fitting service and is intended principally for those who are planning or beginning to go for longer rides. And that's because as people build up to longer and longer rides, little aches and pains can start to grow. Comfort depends on a number of factors, but two are essential: (1) all three aspects of the BUI must be correct: relative positions and contact areas; and, (2) the cyclist must employ proper cycling technique.
Enthusiast Sizing sessions start with a roughly, hour long discussion on bicycling fitting and the science behind it. This discussion serves three purposes. The first is to explain the significance of the questions being asked and of the measurements being taken. The second is to describe proper cycling technique and why it is important. And the third is for us to interview you in order to learn about your expectations, aspirations, motivations and goals in cycling. This discussion culminates with the distillation of the best type of bike for you.
Next we gather all of the information described in our "General Sizing" service and process it to generate an initial set of recommendations on frame size and geometry as well as handlebar and saddle widths. Then we have you ride a bicycle simulator, which is adjusted to those recommendations. During this part of the fitting process we make a series of adjustments until we have defined the precise bicycle user interface dimensions for you and your style of riding. We also have you try out a number of saddles. The results of all of this interviewing, measuring and analyzing is documented in a useful way and provided to you. The information will tell you whether your current bike can be adjusted to fit, and if so how. It will also help you decide to whether it is best to invest in the modifications or to purchase a new bicycle. The cost for this fitting service is $150 and it takes about 3 hours.
Bicycle Fitting Services for Performance Enhancement
Given the vast range of fitnesses and different performance goals we encounter, our Performance Enhancement (PE) sessions are necessarily highly personalized. These are our most detailed fitting sessions and cost $300 and take approximately 6 hours to conduct, not including an hour-long break at the midpoint.
As riders become more comfortable, they often find themselves riding more often, traveling farther, and/or going faster. And by doing so, they inevitably get in better shape. Initially this higher level of fitness in and of itself improves their endurance and speed. However, as the rate of these improvements begins to taper, many riders find themselves wanting to go even longer, farther, and/or faster. That could be because they want to go on longer tours, ride with a faster group in their club, or get into racing. Regardless of their reason for wanting it, the secret for upping their game generally involves some combination of making these riders more energy efficient and/or powerful.
All PE fitting sessions at Bodacious Bicycles start with a discussion similar to that in our Enthusiast Sizing sessions. Only, this time we go much deeper into the factors affecting performance. These topics include power, kinesiology, rolling resistance and aerodynamics. This generally takes about 2 hours. We then gather all the same information we do in our Enthusiast sessions. To that we add assessments of heart rate reserve, blood pressure, body composition, upper body and core strength, range of motion of your lower and upper body. This generally takes another hour or so. Afterwards we break for lunch. (Alternatively, we can schedule the second half of the session for another day.) Either way, this "break" gives us the time necessary to process all of your data and set up the appropriate equipment for the second half.
We say "appropriate equipment" because the second half of the session is always custom tailored. For instance, for triathletes wanting to go faster and longer, aerodynamics becomes a critical factor. In this case, we target a "train-to-aerodynamic-position" as the end point and recommend a bicycle configuration that will accommodate them reasonably over this transformation. Alternatively, for those riders committed to taking a long, self-contained tour we concentrate more on finding a more upright position that allows them to produce the higher torques needed to power up long, steep mountain assents.
The second half of the session focuses on refining your BUI in accordance with your personal goals. This time it's done dynamically under simulated bicycling conditions. During this part of the session, we optimize your position through a series of simultaneous measurements of your power and torque output, cadence and level of exertion (as a % of heart rate reserve) under sustained bicycling conditions. We also record your bicycling technique and pedaling mechanics and evaluate the fore-aft and toe-in/toe-out position of your cleats and adjust them if needed.
Still other riders are more interested in improving their current fitness level and then using cycling as the foundation of an exercise regime for maintaining their newfound fitness and vitality. They recognize that bicycling is a sport that can be enjoyed lifelong. And that makes it an excellent way to achieve and maintain overall fitness. However, achieving a higher level of fitness takes planning. Hence the second half of these PE fitting sessions expands its focus to work on and define several bicycling training regimes (base building, intervals, recovery). It also recommends and demonstrates activities that will complement your cycling fitness by increasing your range of motion and building upper body and core strength.
Closing Thoughts on Bicycle Fitting
Of course, in addition to fittings, Bodacious Bicycles is a fully equipped, skilled, and well stocked bicycle repair shop. We can make all of the recommended adjustments and modifications, and we can also install and set up bicycle accessories, as well as demonstrate how to use them. Alternatively we can get and set up a new bike for you.
Additionally fitting sessions often include suggestions on training accessories (heart rate monitors, cycle computers, power meters, training stands, etc.) that can help the rider better achieve his/her desired fitness and performance goals. We are always happy to explain how to use any or all of these accessories and carry many of them in stock, or can quickly get and install them.
Again, Bodacious Bicycles is all about making your bicycling more rewarding.
Buying a Bicycle at Bodacious
---
Bodacious Bicycles is not a traditional bike store in that we don't have a bike showroom. And that's by design. Here's our reasoning:
Self-assessments of comfort and energy efficiency after short test rides around parking lots or even for several miles are often misleading. Nearly everyone can produce pro-level power for short periods of time. However only pros can produce that level of power for hours on end. Once your power output starts to wane, the load distribution shifts from your feet to your hands, wrists, arms, and shoulders. And that's not where you want to support your weight.
When you're in a showroom, there's always going to be a temptation to buy a bike off the floor - even if it fits you only marginally. And that's like buying shoes that almost fit, they will never feel truly comfortable
We have confidence in our fitting processes. Once your bicycle user interface is fully defined and validated on the simulator (Enthusiast or Performance Fittings) we are willing to order and assemble any bike that matches your Bicycle User Interface (BUI). We are confident that it will feel like an old shoe and be comfortable mile after mile as well as allow you to deliver power levels you are capable of maintaining for the intended duration of your typical rides efficiently.
Hence our philosophy has always been to seek out across many brands and models to find that or those stock bikes that will fit you today as well as far into the future. And if we can't find any that truly fit, we'll try to find a frame or frames that we can build up into your dream bike. And if we still can't find one that fits, we'll be happy to generate an engineering drawing of a frame that will fit you and then steer you to a custom frame builder to get it made.
So how do you buy a bike at Bodacious Bicycles?
We like to think that buying a bike at Bodacious Bicycles is something akin to hiring some combination of a tailor and professional buyer to get, alter, or make the suit of your dreams. This tailor/buyer first spends some time getting to know you, your style, the types of materials you like, and where you're planning to wear the suit. He or she will also want to know what sort of activities you might be doing while wearing the suit. You will then be measured. This initial consultation will end with the tailor/buyer summarizing what was learned and their initial thoughts on whether they think they can find you something directly off the rack, or something that will need some alteration, or that they think you will need a bespoke suit. And then right as you are leaving, they tell you when they expect to get back to you with a firm recommendation.
A day or two later their recommendation "folder" arrives. It contains an accounting of your size and what, if anything, they found that you might like in the marketplace. And, assuming that they found exactly what they think you want, they would include links to the manufacturers website so that you could see what it looks like, compare it's sizing information with your measurements, as well as read reviews on what others think of the product. Then if you decide you want it, you contact the tailor/buyer and they order it. About 10 days later you go to their shop and try on the suit, and if you like it, you pay them and then take it home.
Alternatively, if the tailor/buyer finds that you are not a standard size, they may suggest that they could send your measurements to an outstanding seamstress and have a bespoke suit made for you. Assuming you agree, they might take a deposit from you, and then they order the suit. About three months later, you go to the shop and get the suit.
Buying a bicycle at Bodacious Bicycles follows a similar pattern. The process begins even before you come in for a fitting. Instead it starts right when you stop in or call to schedule a fitting. That's because right from the get go we want to know a bit about you, your bicycling, and your bicycles as well as what you're hoping to get out of session. And if your reason is that you're interested in getting a new bike, we'll begin immediately checking with our suppliers about the availability of certain models as well as reviewing their geometries and sizes.
Then, when you come in for the fitting, we'll "interview" you to learn even more about your bicycles and bicycling. Next we'll explain what's going to be measured, why we need this information, and how we're going to perform the measurements. Then, once we get all the measurements, we will process all the data, and may refine the results with further testing. This culminates with the generation of the first half of the fitting report: the recommended Bicycle User Interface (BUI) for you. Then right before you leave, we'll give you our initial thoughts on whether your BUI should be easy to match or not.
Fitting Report
BUI Recommended for You
Your report contains a side by side comparison of BUIs: yours and the proposed bike's.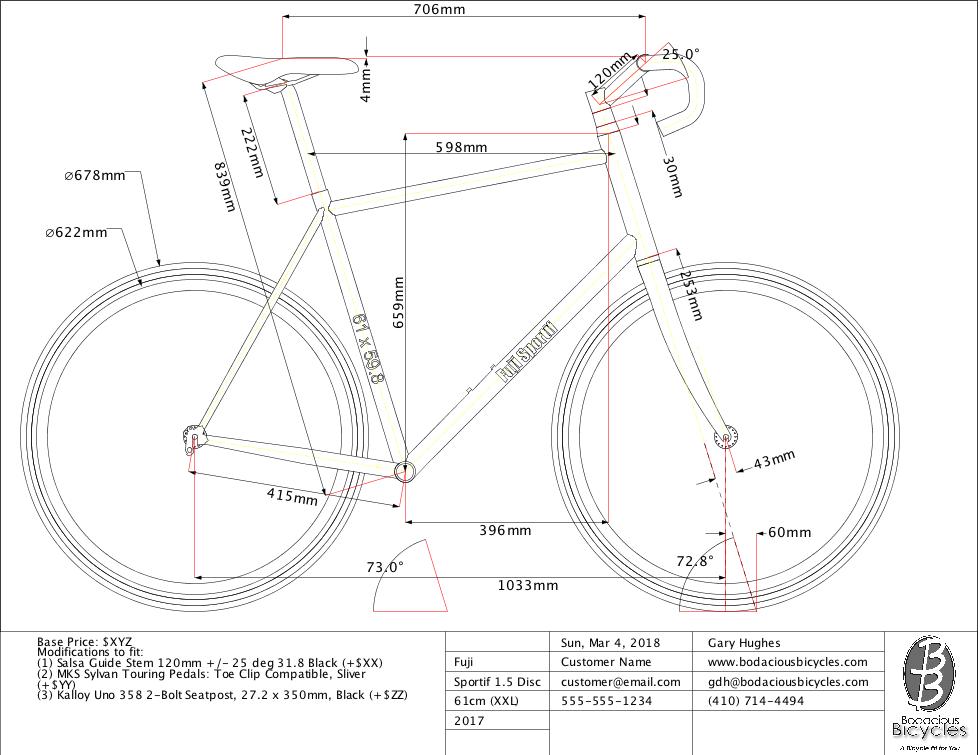 Bike Dimensions
The fully configured Bike's BUI
We provide an appropriately dimensioned, engineering drawing of the proposed bike (inclusive of any modifications), which we append to your fitting report.
Validation
Testing the BUI Match
If you decide to go ahead with ordering a new bike, we typically recommend validating the BUI match first. This extra check is done on a simulator and will confirm that you're going to be comfortable with the BUI of the new bicycle. BUI validation is incorporated into our Enthusiast and Performance Enhancement fittings. For customers that had a General Sizing session there is a $30 upcharge for this service.
Then, immediately after the fitting session, we begin our search across the many brands and models available to us to find those stock bikes that will fit you or can be modified to fit you. Alternatively, if we cannot find a stock bike that can be made to fit you reasonably, we will generate an engineering drawing of a custom bike that will fit you. We generally get this all done within 2 or 3 days and sent off to you as PDF's attached to an email.
If you decide you want the bike, just contact us and ask us to order it. Typically this is done the day you tell us. However, if you want to validate the fit one last time before we place the order, just let us know and we will be happy to have you come back to the shop and do so. Either way, once we place the order, delivery generally takes 1 to 7 days. Assembly takes another day or two. All this adds up to meaning that your new bike will be ready for riding within 1 to 2 weeks of when you order it.
Picking up your new bike.
For most people this takes a couple of hours. We spend this time to showing you the bike and going over how everything on it works. We also go for a short ride together to make sure you're comfortable with how the bike handles and feels. Finally we go over how you should care for the bike and answer any questions you may have.
Follow-on care and servicing
Approximately 30 days after you pick up your new bike (sooner if you've ridden it alot, longer if not), we recommend bringing your bike back to the shop for a quick checkup. This generally takes about 15 minutes. We look carefully over the drivetrain, brakes, and cables and make any adjustments necessary. We also verify that all the bolts are still tightened to the specified torque. There is no charge for this service.
Bicycle Repair & Servicing
---
Mechanical Engineering is all about designing, building, repairing, and operating machines. And since we are passionate about bicycles and think that they are one of the most eloquent machines ever built, then it should follow that we enjoy keeping up on the latest technology as well as have a thorough understanding of the inner workings of classic gear. All of this plus 50 years of experience working on all sorts of bikes, means we're pretty good mechanics. Additionally, we have the specialty tools necessary to do the job right.
Our shop labor rate is $60 per hour. There is no charge for supplies (oil, grease, degreaser, sealants) but parts are extra.
When you bring your bike in for service, we will give you a written estimate for the total job, showing labor and parts costs separately. We will also give you an estimate of when the bike will be ready. If latent damage or problems are discovered when we are disassembling your bike that could change the price by more than 10% or delay when it will be ready, we will contact you immediately to discuss what was discovered and get your instruction on how to proceed.
To give you an idea of what we charge for labor for many of our standard services, we have listed them below.


Quick Fixes

Often done while you wait
Flat Tire Repair (Clincher) ~ $15
Install Tubeless Tire ~ $30
Adjust Front or Rear Rim Brakes ~ $15
Adjust Front or Rear Derailleur ~ $15
Adjust Headset ~ $15
Replace Chain $15 ~ $30
Install & Initialize Cycle Computers and Sensors
Wired ~ $45* --- Wireless ~ $30*
*free if purchased from us
Install Lights, Bells, Mirrors ~ $15*
*free if purchased from us

Tune Ups

Event Check & Prep ~ $30
Annual Check & Prep ~ $60
Partial Tear Down, Overhaul & Prep ~ $120
Full Tear Down & Revive ~ $240

Reassemble or Assemble

Unbox Shipped Bikes ~ $60
Unbox Shipped Bikes & Event Check & Prep ~ $90
Assemble New Bikes still in Box ~ $120
Dream Bike Build ~ $300
Bring us your new frame and parts and have your bike professionally assembled

Handlebar & Stem Work

Tape Handlebars ~ $20
Replace Stem with Faceplate ~ $15
Replace Quill Stem ~ $45

Headset Work

Tear Down & Lube Headset ~ $30
Replace Headset ~ $30
Replace Crown Race ~ $15
Star Nut ~ $15

Frame & Fork

Replace Fork ~ $60
Face Head Tube ~ $30
Face Bottom Bracket Shell ~ $30
Tap Bottom Bracket Shell ~ $30
Ream Seat Tube ~ $30
Align Frame Dropouts ~ $15
Breakaway derailleur hanger replacement ~ $20
Post Crash Clean & Inspect ~ $90
Crankset Work

Replace Crankset $30
Replace Bottom Bracket $30 ~ $60

Derailleur System Work

Install Front or Rear Derailleur ~ $45
Align Rear Derailleur Hanger ~ $15
Replace Derailleur Cable
Alone ~ $ 10; with housing $15 ~ $30

Wheel Work

True Wheel - lateral ~ $15
True Wheel - lateral & radial ~ $30
Spoke custom cut ~ $20
Replace spoke true - lat true ~ $15
Replace spoke & lat & rad true ~ $45
Lace Wheel
New Build ~ $60; Rebuild ~ $90
Replace Cassette ~ $15
Replace Freewheel ~ $30
Hub overhaul
front ~ $30; rear ~ $45

Lever Set Work

Replace Bar End Shifter Set ~ $60
Replace Brifter Lever Set ~ $90
Drop Bar Brake Lever Set ~ $60
Flat Bar Brake Lever Set ~ $45

Rim Brake Work

Replace Front or Rear Brake Cable
Cable only ~ $15; With Housing ~$30
Replace Front or Rear Brake Pads ~ $20
Replace Front or Rear Brake Assembly ~ $30
Replace Brake Lever Set
Drop Bar ~ $60; Flat Bar ~ $45

Disc Brake Work - Mechanical

Brake Adjustment ~ $15
Replace Front or Rear Brake Pads ~ $15
Install Front or Rear Brake ~ $30

Disc Brake Work - Hydraulic

Replace Front or Rear Brake Pads ~ $15
Bleed Front or Rear Brakes ~ $30
Install Front or Rear Brake Line ~ $60
Install Front or Rear Brakes ~ $75
Community Outreach
---
We're new to the area and have needed to spend a good deal of our time getting the shop up and running. This has necessitated putting our normal outreach initiatives on hold. However we're starting to see the light at the end of the tunnel, so we anticipate restarting these initiatives beginning in April. In the meantime, here are some of the activities we are considering to hold, depending on community interest.
Flat Tire Repair Workshops Flat tires happen. But by attending one of these workshops you would have demonstrated having the ability, tools and supplies to fix them. This means that you won't have to fear them anymore because you would know that a flat is not going to leave you stranded.

Partipants should bring their bike to the session. That's because they will be working on their bike during the session. They will remove and reinstall their front and rear wheels; take a tire off one of their rims; find holes in tubes, patch holes, and put everything back together.

These sessions are limited to three participants. They typically last ~2 hours and there is a $20 fee to cover tools and supplies (which you keep).

Park'n Ride Program This talk would be to assess community interest in Bodacious Bicycles kicking off a local Park'n Ride Program. This program was started by Dr. Jennifer Smart, DPT, in 2016 in Oriental, NC. She found that many Parkinson patients could suppress some of the disease's more debilitating symptoms for several hours by riding as the stoker on tandem at a forced cadence in excess of 80 rpm's for 30 minutes. She then recruited and organized a band of experienced cyclists to serve as volunteer captains and paired them to cycle with Parkinson patients. The teams typically ride together twice a week. The riding can be on a trainer or outdoors on the road. Either way the results are inspirational. The Parkinson patients get periods of respite from the disease, and both the captains and the stokers improve their level of fitness. For more information click here.


Delmarva Day Rides Talk would start with a discussion of some great local areas to ride in as well as go over some of the different ways you could participate in these rides: organized, group, or freelance. We would then segue into a discussion of how to dress, how to setup your bike, and what to bring. The session would conclude with a review of the advantages and disadvantages of the different types of auto and truck bike racks that you could use to haul your bike(s) to the start/finish.


Bicycle Touring 101 This would be a far reaching discussion on the different types of bicycle tour options available today, from self-contained to fully supported. We will discuss what types of bikes work best, what to bring, and how to train for several of the tour options. Sometime after the discussion we will lead an overnight tour from Milton to Martinak State Park in Denton, MD and back.


Bicycle Fitting: What and Why Session would go over the science behind achieving the proper "Bicycle User Interface" and why it's important to get this right.


Bicycle Care and On-Ride Repairs Session would cover how you should care for your bike to minimize the occurence of breakdowns. It would also discuss what tools you should be carrying as well as demonstrate how to use them to effect workarounds for a variety of problems.


Wired Cycling This show'n tell session would start with an overview of heartrate monitors, cadence sensors, power meters, GPS trackers, rear wheel trainers, and rollers. This would be followed by a discussion on interpreting the output and using these results to improve your health and fitness.


Please contact us if you are interested in attending any of these activities. Hopefully we'll be posting a calendar of events here in the near future.
Copyright © 2018 Gary Hughes